Last updated on June 4th, 2020
Turrialba Volcano is not the first one to come to your mind when you think to hike a volcano in Costa Rica.
The names of Arenal and Irazu Volcano always show up first and are always busy with tourists.
However, Turrialba Volcano is the second tallest volcano in the country after Irazu Volcano, and in the last few years, it has frequently been in the news because this is one of the most active volcanoes in Costa Rica!
Between 2015 and 2016, Turrialba was responsible for shutting down San José International airport because of an explosion that launched ashes, gases, and incandescent rocks 13,000 feet into the air.
So, yes, this buddy has kept people busy during recent years, causing the closure of Turrialba Volcano National Park, which is now focused on monitoring and investigation.
But no worries. There are other ways to visit and explore the area through local tourist projects. Maybe you won't see the crater, but you can get pretty close and still be safe.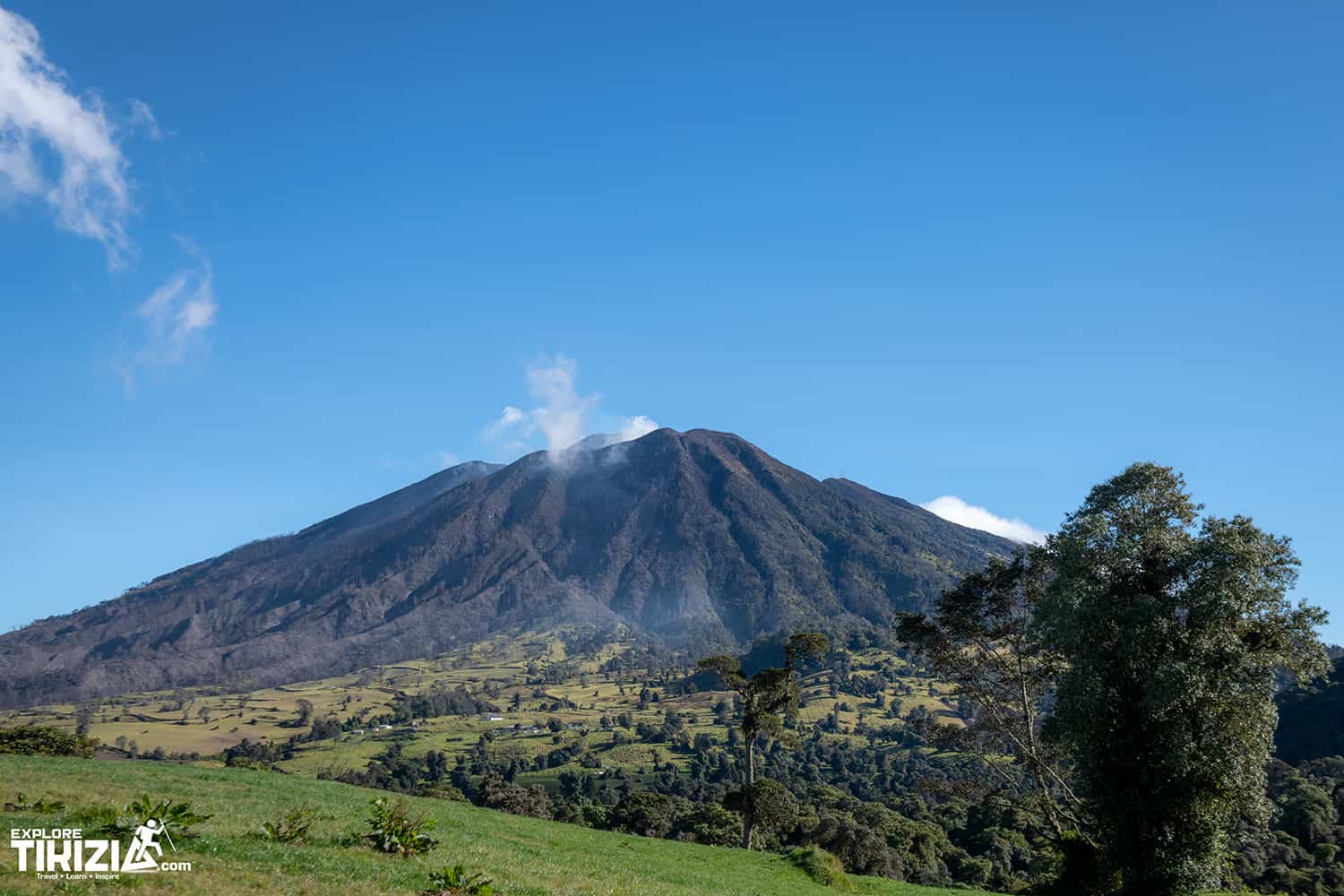 How To Get to Turrialba Volcano
There are 2 common ways to get to this volcano. We took this route:
From San José, take the highway#2 toward Cartago and Irazú Volcano.
Take the exit toward Pacayas and continue to La Pastora.
When you arrive at the Torre Alba soda, turn left and drive up non-stop until you reach Hacienda La Central.
Google maps:
General Information about Turrialba Volcano National Park
The National Park is closed until further notice. But there are other places nearby where you can see the volcano.
Altitude: 3340 meters – 10,919 feet, the second tallest volcano in the country.
Weather: Temperatures around 16 Celsius (around 60 Fahrenheit).
Wildlife: Located in the tropical cloud forest. It's hard to see wildlife on the trail that we did, but there are species like coyotes, skunks, squirrels, rabbits, skunks, opossums, sloths, weasels and puma. Birds like woodpeckers, hawks, goldfinches, tanagers, and hummingbirds.
About Hacienda La Central
The small village of La Central is located at the entrance of the Turrialba Volcano National Park.
It has a few farms, a school, and the Hacienda La Central, the closest private property that has a local tourist project where visitors can hike an area close to the volcano.
It became popular with locals that want to visit the area responsibly since the Turrialba Volcano National Park was closed back in 2012.
There are other tours that promote going beyond the limits of the National Park, but of course we totally discourage you from taking those tours that are risky.
Hacienda La Central is a farm owned by a Costa Rican family who has been dedicated to farming and cattle.
The main cattle field is called La Central, which today is where visitors meet, as it is near the school, chapel, dairy, grocery store, and the Danza con Nubes cafeteria.
It is a small restaurant, a perfect place to eat one of the typical dishes or just have a coffee, a "freshwater" or an excellent hot chocolate. Its small lawn terrace is the ideal place to observe the Turrialba volcano.
This used to be the meeting point before the ascent to the crater of the Turrialba Volcano began.
Our experience
We made a day trip to this area that has incredible views, especially if you visit during the dry season (December until April).
The light of the sun was perfect to take some pictures, and we got there around 8:00 am. Our hike was arranged to start at 9:00 am.
There were people waking up from their tents, since locals like to camp there.
We went to the restaurant and had a cup of coffee and a hot chocolate. We saw some vendors setting up their products like gloves and wool hats and food also.
More cars were arriving and at 9:00 am. A staff member from Hacienda La Central called everyone's name and gave us some information about the hike.
It's 6 kilometers long and it's a loop.
They took us through a cattle field where you can see views of Irazu and Turrialba volcano.
Then the guide took us to a spot called: "El Hoyo" (The Hole) where there was a small canyon with a river that has changed its color to orange because of the iron from the volcano.
From there is the coolest part of the hike where you can see the contrast of the vegetation and the volcano ash — green and gray.
Nature tries to start over again, but with the ashes and materials from the volcano, it's hard to see life there. The trees are like paper and it smells strongly of sulfur.
We hiked about 20 minutes more through old buildings like an old dairy farm. Then we saw the limits where the Turrialba Volcano National Park area starts. So we were still in a safe area.
It was a big group — mainly locals — and everyone seemed surprised that Ligia was hiking with her 8-month pregnant belly and asking her why!? But the hike is not difficult at all. So everyone can do it.
When we finished the hike we were hungry enough to eat a big tortilla and continue to our next place to visit in the area.
Important things to take into consideration
Hike Difficulty: Easy but there are no paved trails. Ligia was 8 months pregnant when she did it.
Vehicle: Sedan is possible during the dry season but we definitely recommend renting a 4WD to Explore Costa Rica.
Camping: For adventurers or enthusiasts of active volcanoes, you can set up your tent there and spend the night to observe the volcano's eruptive night activity.
Costs: Hike tour ₡ 5000 ($10 US) per person (groups larger than 5 people). / Camping ₡3000 ($6 US) per night per person / Parking Lot: ₡1000 ($2 US)/ Use of Picnic area: ₡ 1000 ($2 US)
What to bring?
Contact information
To make your reservation, you can contact them directly and ask for Hugo who speaks English
Contact: 506- 8414-4682 or [email protected]
Related reading
Guayabo National Monument
Irazu Volcano